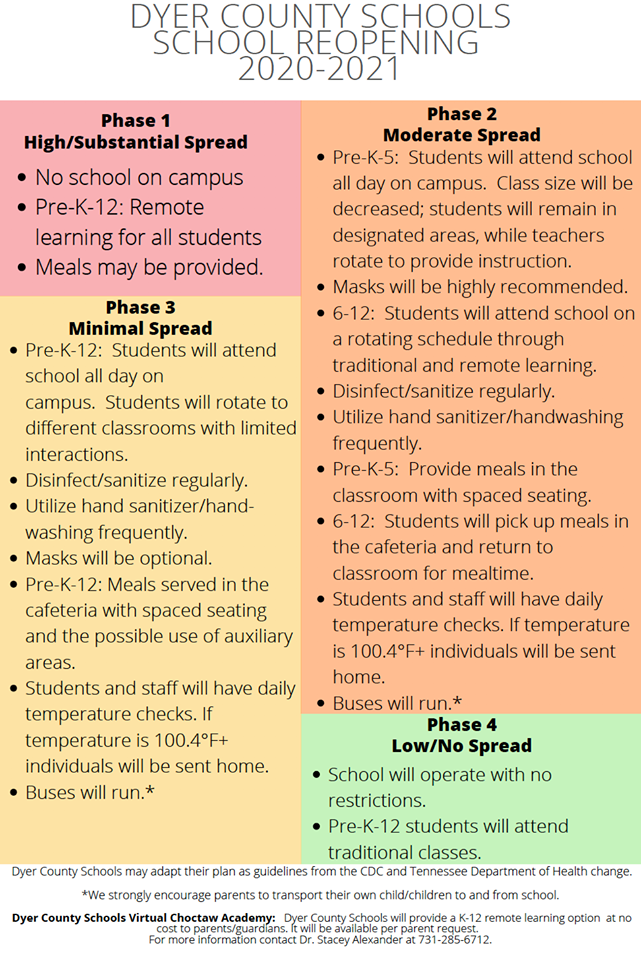 School Reopening 2020-2021
Holice Powell Elementary School
Saturday, July 04, 2020
Dear Choctaw Nation and Supporters,

Thank you for your patience and support during the COVID-19 crisis. This crisis has created a new normal for each of us, and I am proud of the way that Dyer County Schools rose to the occasion.
While this is a time of uncertainty, I find comfort in knowing that in many ways we are united in our adjustments. Life has shifted and days are different. The administrative staff has worked many hours to prepare plans for the upcoming school year. The safety of students and staff is our top priority. Please know the plans may have to change if the COVID-19 cases increase in Dyer County. We will follow the guidance set forth by government agencies. Dyer County Schools strives to achieve academic excellence, so we are committed to provide the most meaningful learning experience for our students.
The current plan for Dyer County Schools is to open with precautions in place. Rest assured that our student and staff safety is the top priority. If they do not feel safe, then learning cannot take place. We want a safe learning environment for all. The first week of school looks different than it has in years' past. August 3rd is registration day. Tuesday, August 4th through Friday, August 7th is a staggered schedule that will allow smaller groups to attend in order for our students to learn new procedures that incorporate social distancing. You will be contacted regarding how the first week will look for your child. At this time all students in grades 1-12 are starting school full days on August 10th. Pre-K and Kindergarten will have staggered schedules for the first 2 weeks.

We know that the community is as concerned about the plans for educating our students as we are; therefore, we ask you to remain receptive to new possibilities as we move forward. Dyer County Schools values your input and suggestions as we embark on this journey. Please email us at dcreopening@dyercs.net with questions or concerns that you may have as we plan for these new challenges. We are working hard each day to be as prepared as possible for school reopening while protecting our most valuable assets. The love of our community and students compels us to move forward during these uncertain times to strive for academic excellence while providing the safest learning environment possible.
We are all in this together.
Cheryl Mathis
Director
Dyer County Schools